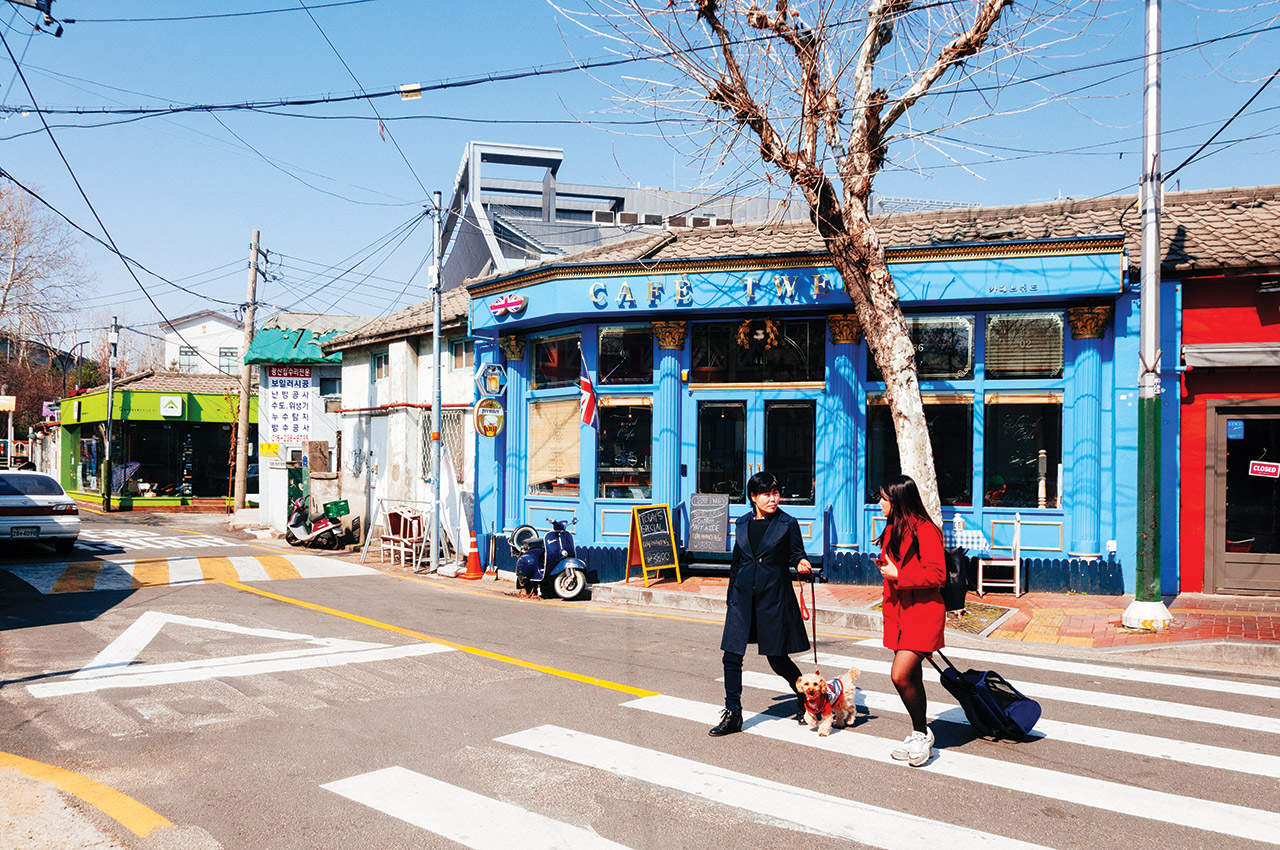 Relaxed off-Hongdae neighborhood fends off gentrification to maintain sense of community
Gentrification.
A neighborhood with an established community starts to attract outsiders. The outsiders continue to frequent the area, increasing over time. New businesses start to move in and drive up the value of the neighborhood. Rent costs start to raise until they reach a point where residents can no longer afford to live there, forcing them to move out.
Gentrification has taken place at alarming rates throughout Seoul and citizens are demanding that the government intervene. It has reached a point where the government stepped in last November to help mitigate the displacement of local residents. The government will work with landlords, tenants, and local government entities of six areas in Seoul to reach an agreement to refrain from raising rent.
This spells good news for the residents of Mangwon-dong, which sits squarely inbetween the heavily visited areas of the Hongdae neighborhood and Sangam-dong with the Hangang River bordering it in the south. For the time being, the majority of Mangwon-dong has remained ungrazed.
The edges where the neighborhood borders the Mangwon Hangang River Park and Subway Line 6 show some signs of gentrification, but as one ventures further into Mangwon-dong, it begins to reflect the more Western traditional sense of what comes to mind when people think of a neighborhood. There is an atmosphere of community. The residential housing hearkens back to a bygone era. The alleyways and side streets are quiet. There is no E-mart or Lotte Department Store. Yet within the neighborhood there is a sense of vibrancy and life. One can tell that although this is a working class area, places are kept tidy and residents do their best to get by. Strewn amongst the area are pockets of small businesses like cafés, book shops, and art galleries. Most of them don't feature any extravagant flair let alone a big sign overhead. The signs here are discreet – one has to pay attention and look for them placed in front of the shop or a hanging by the entrance. Inside these shops, the spaces are small. The claustrophobic might say cramped, but the ones who seek out an escape or seclusion from the busy city life will call it cozy. Perhaps the small business owners are well aware of the effects of gentrification and have intentionally avoided showy facades in order to preserve the spirit of Mangwon-dong.
SEOUL will highlight a few places of interest, but this roundup is far from comprehensive. The real charm of Mangwon-dong is the experience of walking down its streets and discovering the hidden gems quietly sitting in the holes of its walls.
Café Bubu
Near Mangwon Station is a vintage-looking building with what appears to be a camping scene nearby. Run by the design team bubu, the renovated two-story building features their design studio, coffee roasting lab, garden, a small selection of books and their pet dog. Enjoy your drinks there or take home one of their bags of coffee or bottled cold brews. They are open from 11 AM to 11 PM.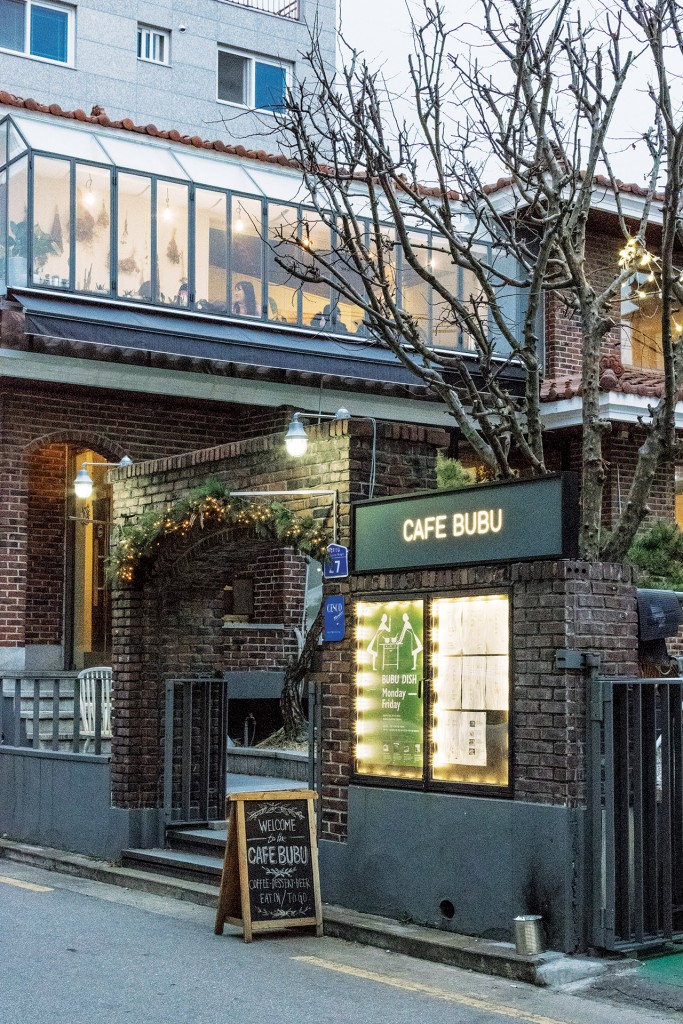 Mangwon Market
Walk further down the street to see the entrance to Mangwon Market. Daiso is probably the closet modern installation within its canopied walkway, otherwise, the whole gamut of stores that are found in Korean markets is here as well. The World Cup section, a recent extension of the market, presents its food selection in the more modern hygienic ways commonly seen at the big chain grocery stores.
A few years back, the market was slated for demolition. Local opposition to the demolition saved it, however.
Manil Book Shop
Continue to head west past the southern entrance to the market to see a small book shop called Chaekbang Manil. The variety of books is all across the board and one can take their time reading any of them by sitting at the small table in the center of the shop. The operating hours are Tuesday to Sunday from 1 PM to 7 PM. As an added note, Manil Book Shop does not have much of an English selection, but the shop's charming atmosphere transcends language.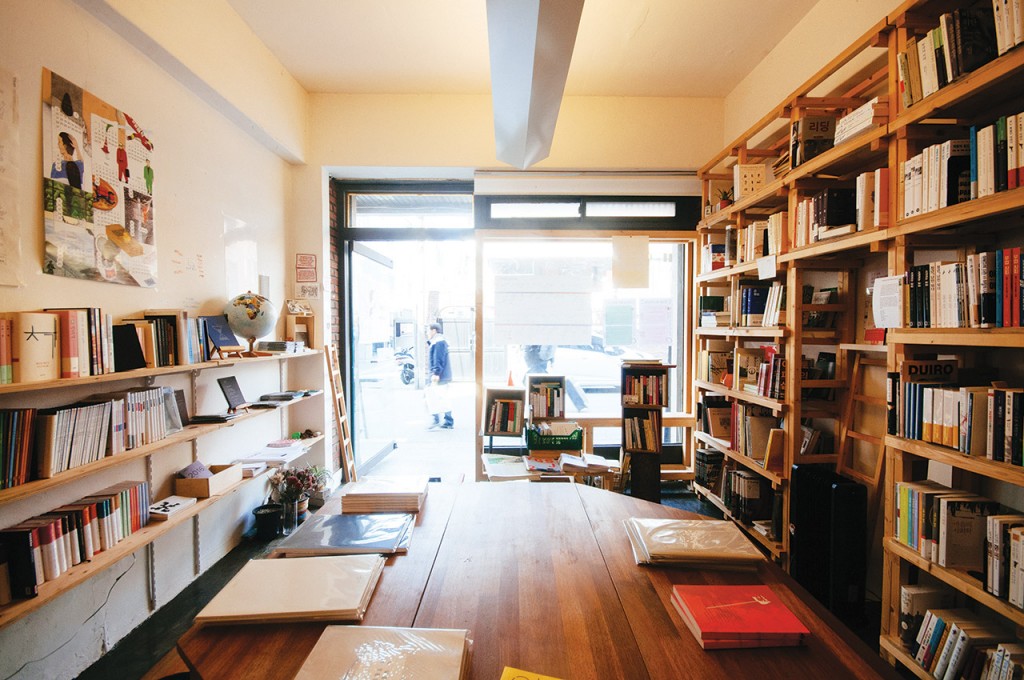 Le Glacier des Etoiles
On the western side of Mangwon-dong, one can find a place that resembles an upscale diner from the 1950s. The pink and gold accented French restaurant originally hails from Busan. Next to the building's entrance are two placards. The top one reads Le Glacier des Etoiles, which roughly translates to "the glacier of the stars." The Korean name of the store is Bingha-ui Byeol, which means "glacier's star." Regardless of the translation, it means they serve some delectable store-made ice cream. They have three different ice cream flavors but only serve one kind depending on the day of the week. The second placard reads Le clocher d'or. For brevity's sake, this means they also serve French cuisine. Like the ice cream, the cuisine will satisfy any gastronome's palate. Similar to Café Bubu, this place is a two person operation, but if they run out of food or ice cream, then better luck next time.
CobraPastaClub
If Le Glacier's front paint job represents one half of the Miami Vice two-tone logo, there's a building nearby to represent the mint color. CobraPastaClub can only be identified by its pastel mint wall and a sole wooden chair sitting in front of its window. Glancing inside, it can be tough to tell it's a restaurant with its records and other retro music paraphernalia. Don't be fooled, because this place hides a unique way to enjoy its Italian menu. CobraPastaClub is enjoyed by a select cult following because of its unorthodox reservation system and delicious pasta. In order to dine at CobraPastaClub, one must go to owner and chef Yun Ji Sang's Instagram @cobrapastaclub and send a direct message to make a reservation. Confirmation of reservations can be seen in an Instagram post stating the reservation time and the name it's under. Open Wednesday to Sundays from noon to 10pm with a break from 4:30 PM to 6 PM.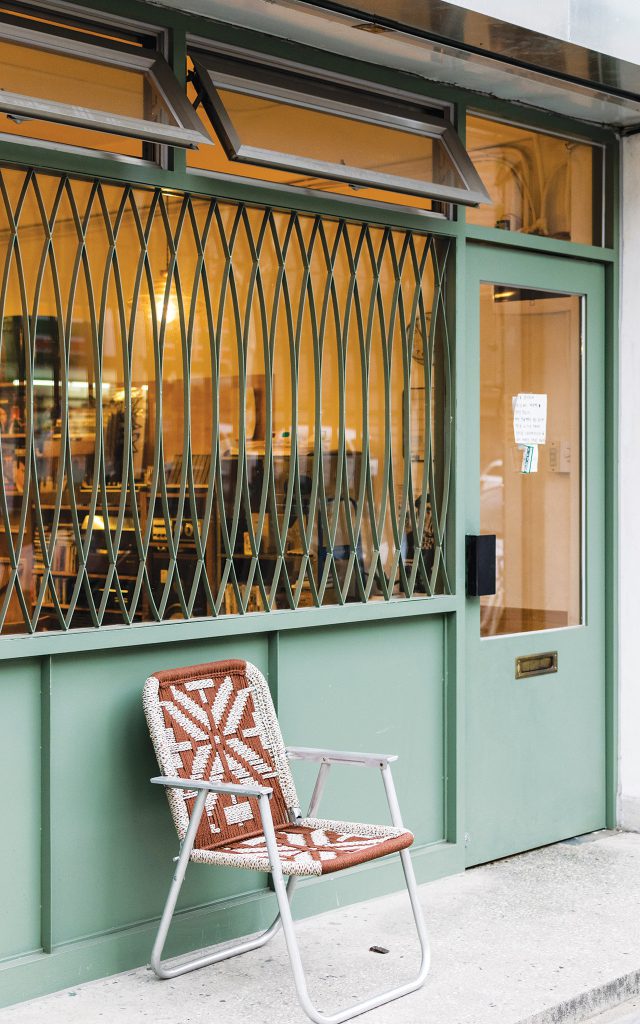 Café Tweed
Near one of the gateways to Mangwon Hangang Park sits another bright colored building. This one is robin's egg blue and has a European look to its store front. The classic interior denotes a clear bicycle motif in addition to the generally British theme. The store has large windows that bring in plenty of light to enjoy reading a book on the first floor or up above in the cozy loft. From Monday to Thursday and Sundays, they are open from noon to midnight. On Fridays and Saturdays, they stay open until 2 AM.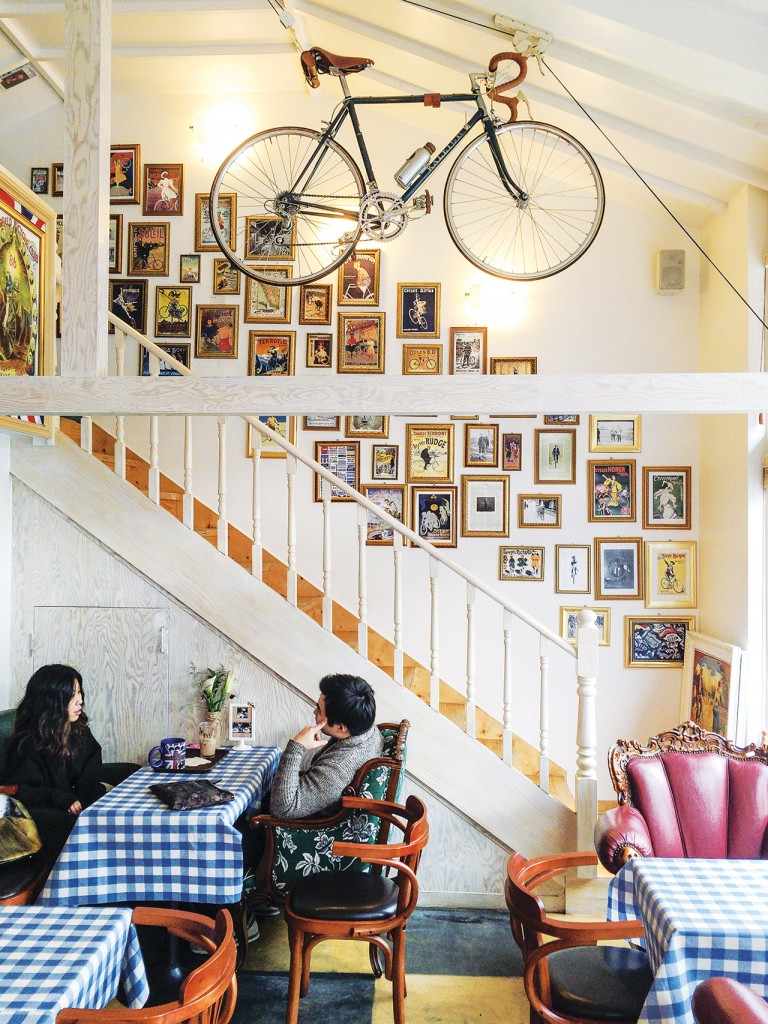 Strewn amongst Mangwon-dong are pockets of small businesses like cafés, book shops, and art galleries.
[separator type="thin"]
More info
Bikes!
You'll notice not only a lot of people riding bikes here, but also a lot of bike shops. According to one bike shop owner, many of the residents who work in Mangwon Market live in neighborhoods to far to walk to and from, but to close to drive. Hence, the bikes. The neighborhood is also close to Hangang Park, a popular biking spot. There's a bike rental shop in Hangang Park, not far from Café Tweed.
GO> Mangwon Station (Line 6)
Written by John YS Kim
Photographed by John YS Kim and Robert Koehler
https://magazine.seoulselection.com/wp-content/uploads/2016/03/DSC_3841.jpg
850
1280
cyn
https://magazine.seoulselection.com/wp-content/uploads/2018/01/Seoul-logo.png
cyn
2016-04-03 13:06:34
2016-04-03 13:08:35
Mangwon-dong 망원동