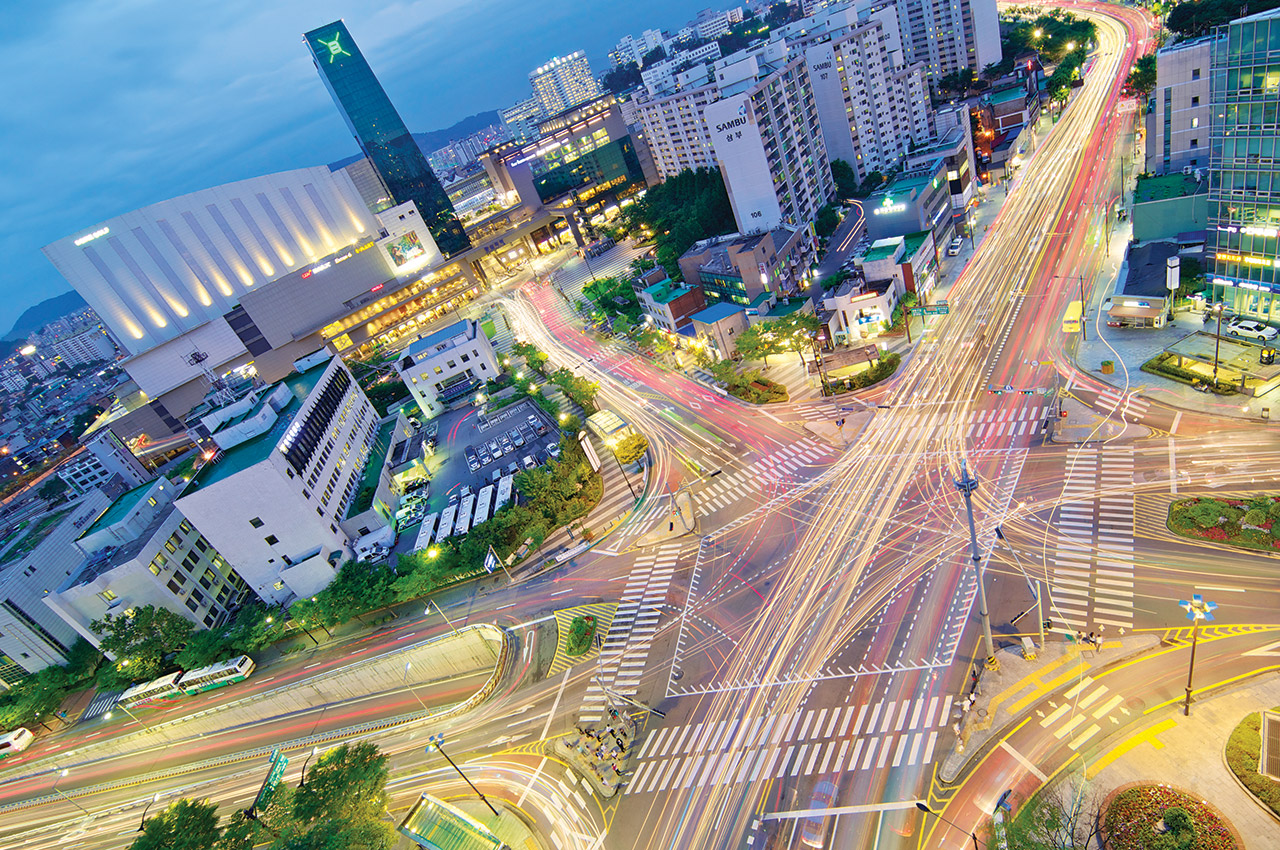 The changing face of Wangsimni
The streets of Wangsimni were once lined with factories, metal-workers, carpenters, artists and nightclubs. Today, remnants of this past remain, while the dynamic neighborhood is simultaneously undergoing an unprecedented renewal. Most Seoul residents fondly remember the rainy streets of Wangsimni as sung by Kim Heung-kook in his famous ballad "1959 Wangsimni." Today the neighborhood is infamous for its busy intersections, giant E-mart and plethora of gopchang restaurants. The convenient location and host of the first stop of the Bundang line – the ideal shortcut from northern Seoul to Gangnam – is tempting to discount as simply a place for transferring subways.
But there is much more to discover in this noteworthy neighborhood booming with energy, people and new growth. Located on the Cheonggyecheon Stream, just 15 minutes from Dongdaemun, Jongno and just a bit farther to Itaewon and Gangnam, Wangsimni is a lesser-known, but thriving gem in the city of Seoul. In the last five years, large investments have been made in infrastructure development in Wangsimni, including the subway station that is home to five different lines and an enormous apartment complex, or New Town, which is one of the biggest infrastructure regeneration projects to date in Seoul.
Wangsimni is becoming a place of interest to experience a mix of modern and traditional Seoul.
Urban regeneration
New Town Development is one of the Seoul Metropolitan Government's (SMG) initiatives that began in 2002 to improve the living environment of relatively underdeveloped districts in Seoul. Urban regeneration and renewal is undoubtedly wrought with controversy, as it often harms underprivileged social groups while benefitting large private companies and wealthy residents from outside the local area. Nonetheless, the Wangsimni New Town project is well underway and is expected to result in 5,000 households with 14,000 new residents.
Both in terms of urban development and Seoul social life, neighborhoods south of the Hangang River have historically received much more attention and interest from both residents and international visitors. However, thanks to the infrastructure investment projects in recent years, more areas north of the river, including Wangsimni, are becoming places of interest to experience a mix of modern and traditional Seoul.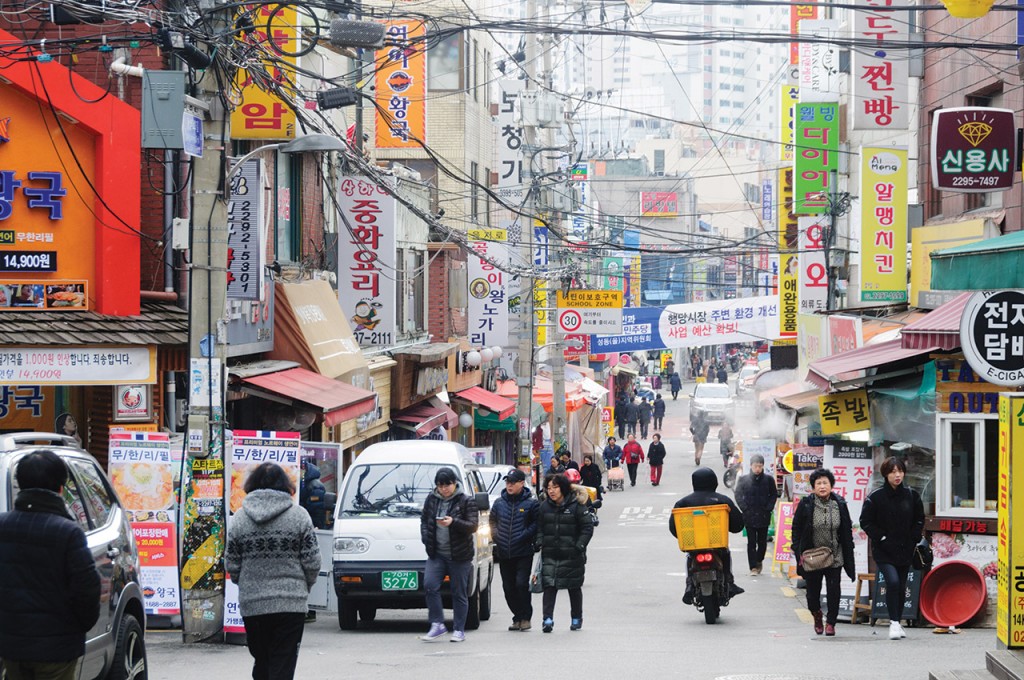 Neighborhood staples
Despite extraordinary demographic and physical change of the greater Wangsimni area, a number of neighborhood staples remain to tell the story of the past. Daedo Sikdang 대도식당 (T. 02-2292-9772), a local favorite since 1964, is located in a large hanok just north of Sangwangsimni Station, Exit 2. The menu is simple, with only three items: Korean beef (한우), radish kimchi fried rice (깍두기 볶음밥), and doenjang juk (된장죽). One mouth-watering, generous serving of meat is KRW 38,000, a price that rivals the expense of nearly every other restaurant in the neighborhood but whose incredibly satisfying flavor has proven its consistency for over fifty years.
Down the road and a few decades younger, Haengdang Tteokkboki 행당 떡볶이 is a small tteokkboki restaurant owned by two women who have been managing it for nearly 30 years. Operated out of a tiny, rickety shop where the cold air seeps through the walls in the winter time, it is easy to miss. The tteokkboki, made with homemade gochujang, starts at KRW 2,500 per person with extra additions (mandu, egg ramen, fish cake, etc.) available for slightly more.
Just around the corner is Sammat Hotteok 삼맛호오떡 (T. 02-2282-3396) whose owner started selling hotteok in a small street cart in order to fund his music. Both a musician and a chef, he now owns this brick and mortar hotteok shop west of Exit 11 of Wangsimni Station. This is arguably the most diverse hotteok shop in Seoul, with flavors ranging from Italian (marinara sauce and mozzarella cheese) to the sweet-tooth favorite, Nutella Ice Cream (hotteok covered in Nutella with a scoop of ice cream inside).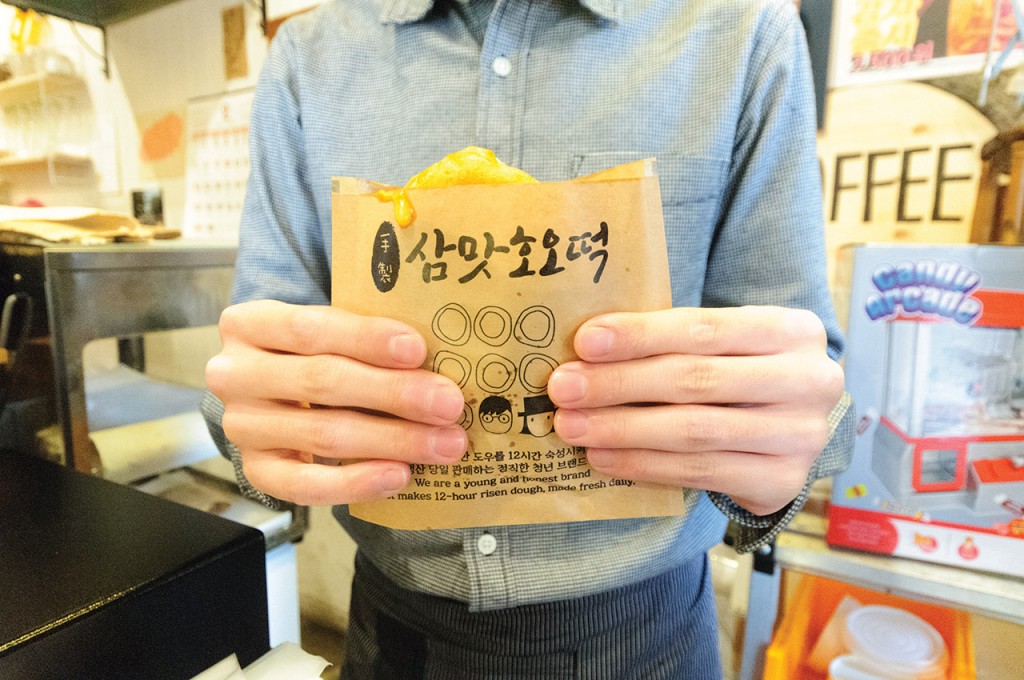 Music and art
Historically, Wangsimni and the surrounding area was home to wood and metal artisans. This shared value of craft, artistry and culture continues to influence the neighborhood today in unique ways. Just down the road from Sammat Hotteok is Bong Soon's Attic + Drum Prison 봉순이네다락방 + 드럼 치는 감빵 (T. 02-2299-8057). The first floor of this tiny café barely holds four people, which in itself is worth visiting for its fascinating small size. But the true gem here lies in the basement which is home to a drum studio and practice room. Drum lessons and unlimited use of the studio is offered for KRW 100,000 a month.
With the goal of making culture and art easily accessible to the residents of Seongdong-gu, Sowol Art Hall 소월 아트홀 (T. 02-2204-6400) hosts a variety of musicals, plays, festivals and symphonies. The prices are often much more reasonable than the larger art halls in the city and generous discounts are offered for families and residents of Seongdong-gu. For ticketing and further information visit http://sowol.sdfac.or.kr/
Across the street from Sowol Art Hall, Soomspace 숨스페이스 (T. 010-2779-9831) is an art space and studio that offers classes to budding artists of all levels. Classes are held Tuesday through Friday and Saturdays are "free days" for open painting, drawing or resting. For further information, stop by the studio or visit the website at http://www.soomspace.com/.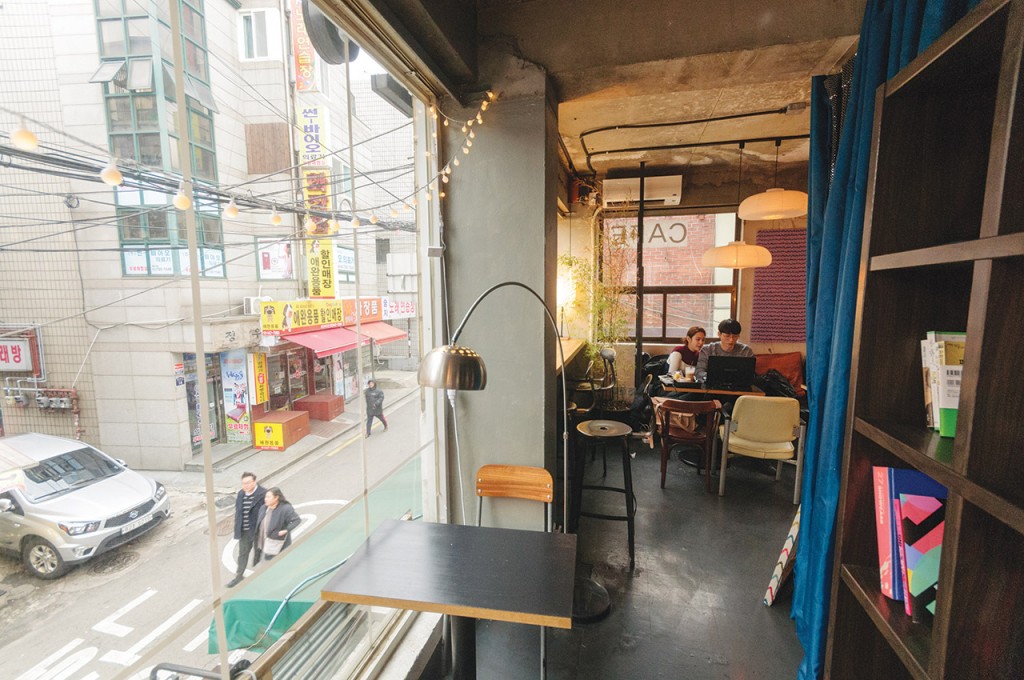 Tea, coffee and construction
No Seoul neighborhood is complete without its selection of caffeine vendors. Although there are a number of chain coffee shops in the area, Wangsimni has a robust selection of local, independent places as well. Healing In 힐링인 (T. 02-6104-9297), located near exit 6 of Wangsimni Station, sells a variety of hand-dripped coffees but is truly known for its tea. The extensive tea menu boasts a range of Herb Tea, Black Tea, Royal Milk Tea and Korean Traditional Tea with flavors including Hawaiian Hibiscus, Darjeeling and Quince Tea, to name just a few.
9 Hertz 나인 헤르츠 (T. 010-4664-4500) is located east of Exit 9 of Wangsimni Station. The two story coffee shop has an industrial design, retro décor and is open until 2 am, making it an ideal place for late-night studying or a post-movie coffee.
Wangsimni New Town is a bit of a walk from the main Wangsimni intersection, but visiting the new development is a treat for any urbanist. Visitors can see new apartments, visit model homes, and patron the new commercial establishments in the area. 3 Sam Partners (T. 02-2298-4729) is a coffee and bagel shop with an industrial interior, well-selected music and a daily-rotating selection of bagels and cream cheese.
Just beyond the strip mall where the coffee shop is located, is the Cheonggyecheon 청계천. The part of Cheonggyecheon closer to Wangsimni still houses some of the older portions of the freeway that was torn down during the renewal of the stream. It is an ideal visit for those who enjoy outdoor exercise or who are curious about the first-hand effects of urban renewal in Seoul.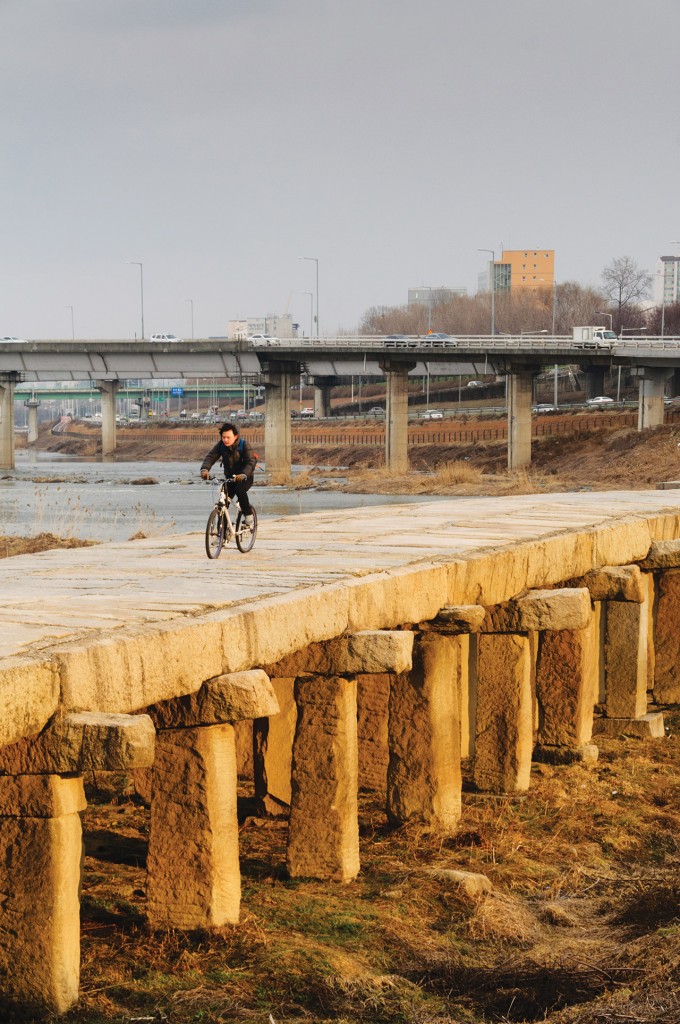 [separator type="thin"]
More Info
GO> Wangsimni Station, Sangwangsimni Station
[wc_box color="secondary" text_align="left"]
Enter 6 Mall and Salgoji Bridge
A perfect illustration of the contrasts of Wangsimni is the presence of the Enter 6 Mall and Shopping Center a few short minutes away from the Salgoji Bridge. Enter 6 Mall Wangsimni (T. 02-220-6000) was opened around the same time as Wangsimni Station was upgraded, and is filled with clothing, food and cosmetic vendors. In back of Hanyang University, in the middle of Jungnangcheon Stream, is Salgoji Bridge, which is the longest existing bridge from the Joseon Dynasty at 76 meters long. It is still strong enough to walk on and is frequented by local residents.
[/wc_box]
Written by Marina Brenden
Photographed by Robert Koehler
https://magazine.seoulselection.com/wp-content/uploads/2016/03/Wangsimni-Intersection.jpg
850
1280
cyn
https://magazine.seoulselection.com/wp-content/uploads/2018/01/Seoul-logo.png
cyn
2016-03-05 15:06:53
2016-03-05 15:06:53
New Town, Old Town 왕십리